Steam Locomotive No.10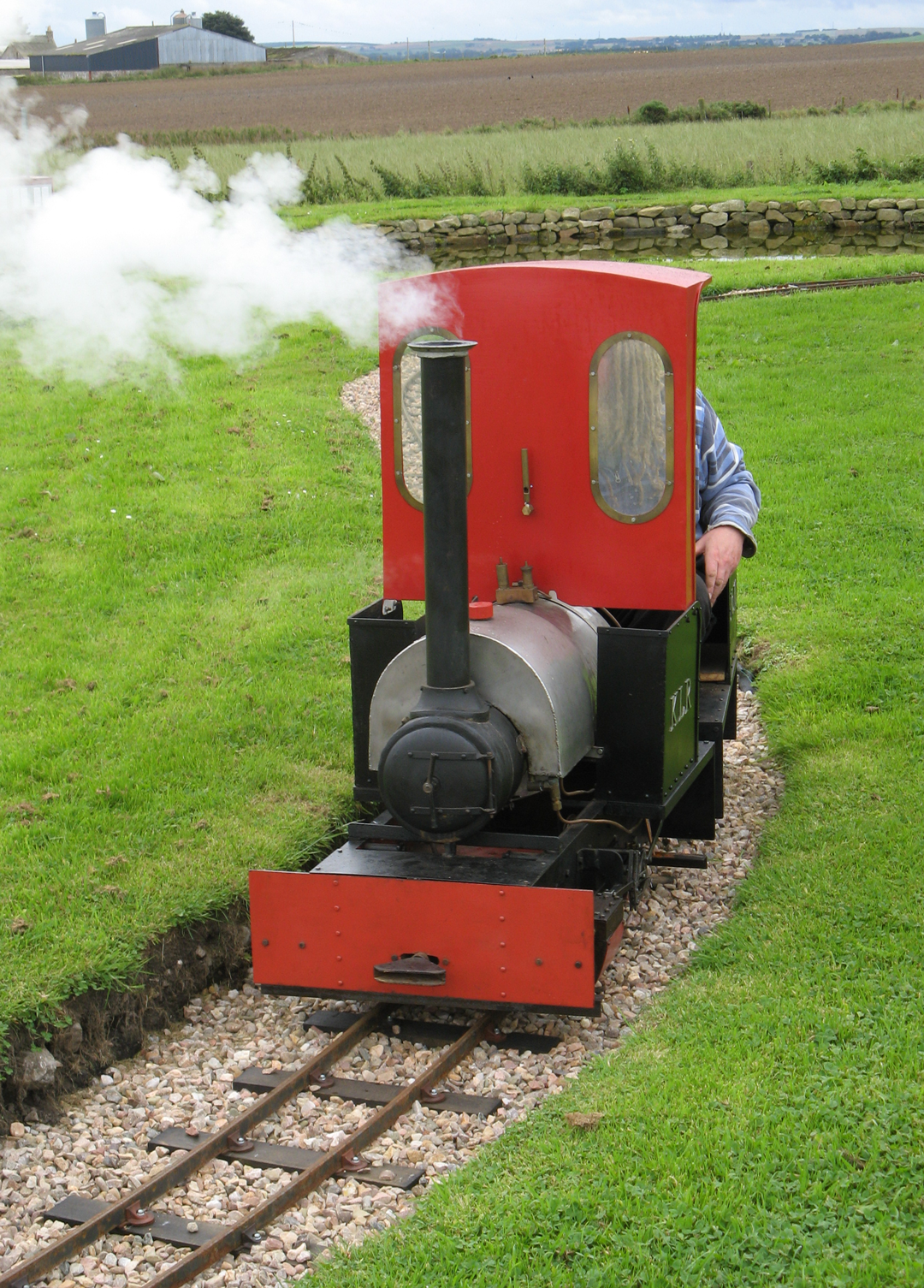 A large sit-in 0-4-0 tank engine built by Mr Eric Walker, a talented engineer who didn't start building steam engines until he was in his seventies. A powerful engine, it is capable of tackling gradients as steep as 1 in 10, and negotiating tight curves. This freelance design (rather than a scale model of a particular locomotive), is ruggedly built and designed for ease of use and hard work. It is Eric's interpretation of the popular 'Sweet William' design.
An unusual feature is the two wheeled tender. This apparently is because the first engine of this type that Eric built was in 0-4-2 format. When he found it wouldn't go round the curves on his railway he simply cut off the back end and converted into a tender! This worked well and he saw no reason to change the design on the other similar engines (such as No.10) that he went on to build.
Eric and his Kirton Light Railway (which explains the initials KLR) have been inspirational in the creation of Karen's Little Railway. We received much practical help and encouragement from him, both with regard to owning this locomotive and building the track for it to run on. His 'can do' attitude and enthusiasm have inspired us to have a go at projects that we may have otherwise shied away from. Sadly Eric died on 25th December 2014.
An interesting obituary/biography of Eric Walker's life (including a list of most of the engines he built) can be found on the Station Road Steam web site, where there is also a short write up about a visit to the Kirton Light Railway. Eric completed many other interesting and varied projects during a very productive life. The last of these was to publish his life story as a series of short e-books entitled eric walker my story. We're sure many readers of this page would enjoy these books - especially those of you who stumbled across Karen's Little Railway when searching for the Kirton Light Railway. If you don't own a Kindle you can download a free Kindle Reading App for your computer, smartphone or tablet.
Click on the buttons below to read about other KLR locomotives.