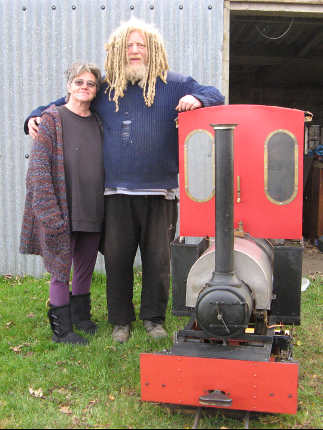 Our family are building a 7 1/4 inch gauge railway in our garden near New Pitsligo, Aberdeenshire, Scotland. Steam and diesel locomotives pull trains on our 'minimal gauge' railway. It is a genuine 12 inch to the foot narrow gauge railway as opposed to a scale model or miniature of something else. An advantage of this approach is that our locomotives (and their controls) are suited to the proportions of full size people. The sit in style carriages are easy to get in and out of. This is important to Karen because she suffers from Multiple Sclerosis.
We would like to share our enthusiasm and enjoyment through this website. The History page outlines our personal journey from playing with toy trains to embarking on our KLR project. Our steam engine and diesel locomotives are introduced on the Locos page. Building the railway is covered in the Construction section. Our proposed Trackplan can be viewed and you can keep up to date with the latest KLR News on a blog style page. If you would like any more information, please use the Contact page. We are in the process of adding information about our smaller Greendale & Brownhill Railway in the GBR - Our Other Railway section of the website
Why Karen's Little Railway?
When Karen noticed our steam locomotive No.10 had the initials KLR on the cab and tender she joked that 'KLR' could stand for Karen's Little Railway. The name has stuck because Karen has been inspired to become a 'railway director' actively involved in many aspects of the railway, rather than being just an interested onlooker. Read more about this on the History page.
There are several picture galleries or slideshows (like the one below) on this web site. Click on a thumbnail to see a bigger (higher resolution) picture. This should allow you to see a bigger image on your computer screen or zoom in on mobile devices.