Locomotives on Karen's Little Railway are large scale narrow gauge types. This means the engines (and the trains they haul) can be large enough for drivers and passengers to sit in (rather than on) despite their small 7 1/4 inch gauge. Plenty of power and short wheelbases mean these locomotives can cope with steep gradients and sharp curves, allowing us to fit a 'big' railway into a small space.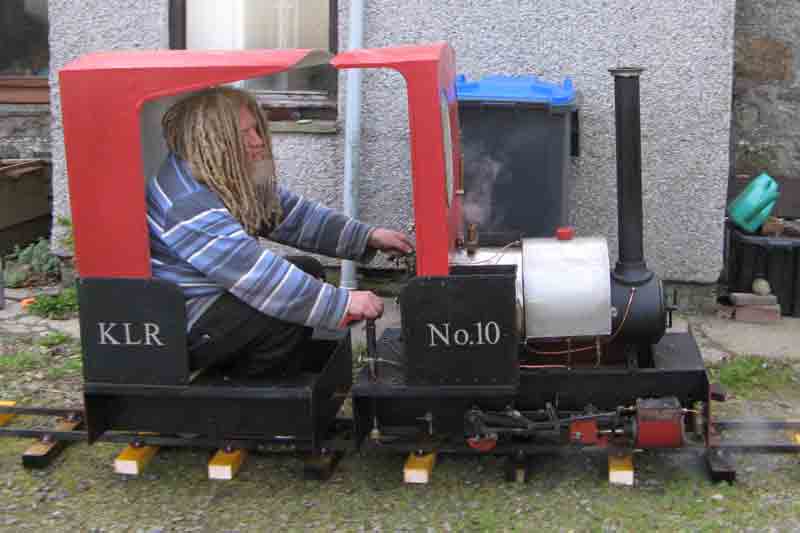 A large sit-in 0-4-0 tank engine built by Mr Eric Walker, a talented engineer who didn't start building steam engines until he was in his seventies. A freelance design (rather than a scale model of a particular locomotive), it is ruggedly built and designed for ease of use and hard work. Pictured here in action on a short length of temporary test track.
An unusual feature is the two wheeled tender. This is a powerful engine that is capable of tackling gradients as steep as 1 in 10, and negotiating tight curves.
Eric and his Kirton Light Railway (which explains the initials KLR) have been inspirational in the creation of Karen's Little Railway. We have received much practical help and encouragement from him, both with regard to owning this locomotive and building the track for it to run on. Visit his web site to see more about his Kirton Light Railway, the KLR locomotives and workshop, as well as some of the other remarkable things he has done.

Eric's web site contains many pictures pertaining to his recently published life story, available as a series of short e-books entitled eric walker my story. We're sure many readers of this page would enjoy these books - especially those of you who stumbled across Karen's Little Railway when searching for the Kirton Light Railway. If you don't own a Kindle you can download a free Kindle Reading App for your computer, smartphone or tablet.

For more pictures and information about the Kirton Light Railway and locomotives, there is a short write up on the Station Road Steam website about a visit to the Kirton Light Railway and information about the three most recently completed engines in the Station Road Steam archive.

Diesel Engine No. 5 'Helen'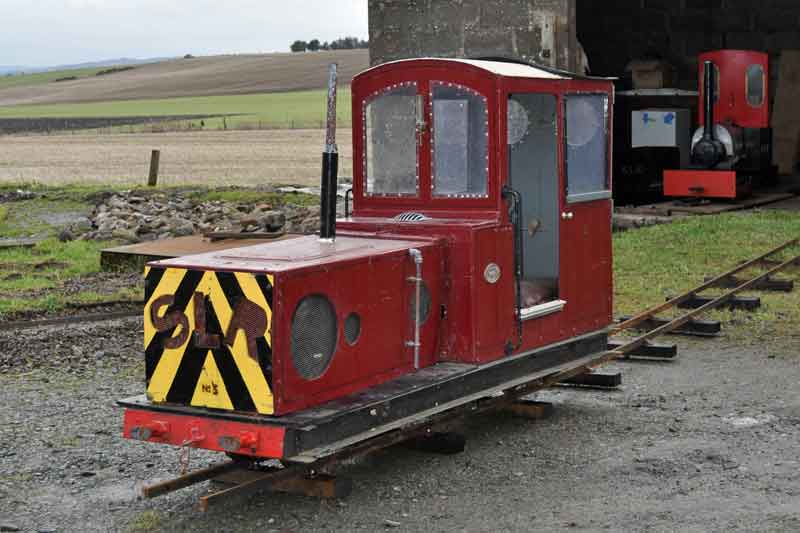 Actually petrol powered, this large 'diesel' shunter is another freelance sit-in engine. Although just about seven feet long, it's bogie chassis allows it to negotiate tight curves. Currently undergoing some mechanical overhaul, we eventually hope to make cosmetic changes to improve her looks!

When buying this engine she was referred to as 'the horrible shunter' or 'HS' for short. Following a discussion about beauty being in the eye of the beholder, Karen matched the initials HS to Helen Shapiro, so now she is more politely known as 'Helen'.

This engine was apparently once used for junior driver training duties on the Sanday Light Railway in Orkney. Sadly now closed, it looks like this was an excellent little railway, once known as 'Britain's most northerly passenger carrying railway'.

Getting Helen Working

When Helen first arrived she was a non runner, so Ruarí set about getting her working again. The engine is an ancient Briggs & Stratton lawnmower engine. Fortunately the local mower shop was able to find the engine number and thus were able to supply appropriate spares. The recoil spring and rope had to be replaced before we could see if it would start. It didn't! A new spark plug and condenser, an adjustment of the points and a new air filter sponge got the engine running.
The next problem was unseizing the clutch. This was eventually accomplished using large doses of lubricant (WD40, used engine oil), the application of heat (blow torch) and plenty of brute force and ignorance, bending a puller and losing the head of the rubber mallet in the process. All that was needed after that was to adapt some old bicycle cables to connect the brake and clutch levers. After a couple of months of effort, internet research and learning as he went along, Ruarí had succeeded in getting Helen going and gained an interest in internal combustion engines.
In the longer term various bearings really need replacing and more power would be nice The current drive system might be described as rustic but is surprisingly smooth, probably because it is all equally worn! This means we have decided to take a 'if it works leave it alone' approach for now. There is talk of eventually making Helen a diesel-hydraulic locomotive (rather than petrol-mechanical), if we can find suitable components at little or no cost.
The Workings - all mounted on the front bogie. An ancient Briggs & Stratton lawnmower engine drives a simple vee pulley clutch. The belt slips around the front (small) pulley until you operate the clutch lever (not shown in this picture) which pulls the sides of this pulley together, thus gripping the belt and providing drive. Behind the big pulley is the gearbox (probably from an old lathe) with the selection lever visible above. The lever has 3 positions for forwards/neutral/backwards Final drive is via a chain to the axles.

Cosmetic Changes
Karen wanted a railway project as she was unable to help with the basic navvying tasks. She took charge of re-designing and (with Ruarí's help) rebuilding Helen's bodywork. The plywood of the original bodywork seemed to be of decent quality so it was worth keeping, but nothing was square so modifications were generally done by eye rather than measuring.
The initial idea was to modify the cab to make it more accessible so that Karen could drive this engine. Having done that, she decided to move the cab forward so that it was easier to reach the forward/reverse lever and add a boot/tool box in the space now left behind the cab. Karen said "every girl needs a handbag", and she was right......... this boot space has proved very useful for carrying tools around the railway.

Other changes were the addition of new square grilles on the sides of the bonnet (ventilation grilles from the local DIY shop) to replace the previous odd looking round ones, a new shape front grille, and a new chimney (a 'designer' table leg!). These modifications have made Helen a much better proportioned and easier to use locomotive. There is still much hole filling and a re-paint to be done, but once this work is completed we think she will be a good looking engine.
Here's the story in pictures.......